Earth101 is an ongoing project where selected documentary filmmakers meet in Reykjavik, Iceland with some of the finest experts in various fields relating to climate science and cultural cognition. The first conference was in October 2013.
The purpose is to provide a venue where some of the world's preeminent minds on climate change and renowned international filmmakers meet and engage with each other in a dynamic fashion in order to address the manifold problems inherent in the public mediation of the environmental crisis. This is the greatest challenge the world is facing and the first step towards a solution is for mankind to acknowledge and understand the problem.
Films are a powerful medium that reaches across borders, and that is why the documentary can play a central role in communicating the dangers of a warming climate on a global scale.
The Earth101 project has received funding from the Ministry of Education, Science and Culture, the Icelandic Ministry for the Environment and Natural Resources, the city of Reykjavík, the U.S. Embassy in Iceland, Landsvirkjun, Promote Iceland, the University Center of the Westfjords, and several institutes within the University of Iceland, among others.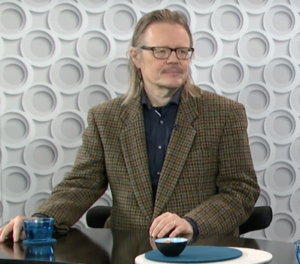 Guðni Elísson (b. 1964) is a Professor of Literature and the Head of Faculty in the department of Icelandic and Comparative Cultural Studies at the University of Iceland. He has written two books and close to fifty articles on various subjects matters in the fields of literature, cinema, cultural studies, as well as on environmental issues. He has also edited over twenty books. He is especially interested in the way political think tanks influence environmental debates in modern Western societies. 
Among his articles that deal with the issue of global warming and environmental and climate change debates in the Icelandic and international context are:
"What's up with the weather? The Icelandic discourse on climate change" [Nú er úti veður vont. Gróðurhúsaáhrif og íslensk umræðuhefð], Ritið 1/2007, pp. 5–44.
"Skepticism and denial. Responsible climate change discourse and the media" [Efahyggja og afneitun. Ábyrg loftslagsumræða í fjölmiðlafári samtímans], Ritið 2/2008, pp. 77–114.
"You will all perish! Does apocalyptic discourse influence the debate on the science of climate change?" [Þið munuð öll deyja! Lita dómsdagsspár hugmyndir manna um loftslagsvísindi?], Rekferðir, Reykjavík: Háskólaútgáfan 2011, pp. 298–309, 338–341.
"The Doomsday Clock is ticking. Denial discourse in climate change debate" [Dómsdagsklukkan tifar. Upplýsing og afneitun í umræðu um loftslagsmál], Ritið 1/2011, pp. 91–136.
""And no bird sings". The war on Rachel Carson" ["Og syngur enginn fugl". Hernaðurinn gegn Rachel Carson], Tímarit Máls og menningar 3/2011, pp. 24–39.
"Let sleeping dragons rest. The climate change discourse, political debate and the quest for oil in the Dreki region" [Vekjum ekki sofandi dreka. Loftslagsmál, pólitísk umræða og olíuleit á íslenska landgrunninu], Tímarit Máls og menningar 4/2011, pp. 8–23